Data Challenges for CRM in 2021
Introduction
We are now deep into Lockdown 3.0 with many of us working from home and we have all experienced both with clients and suppliers' massive changes to how we work and who we are working with. These are changes are likely to stay for the foreseeable future, but how does this impact on your Customer Relationship Management system and what should you be doing now?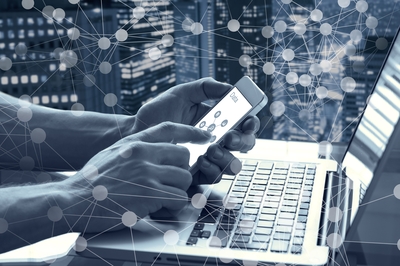 Most economic commentators are continuing to forecasting, regrettably, that many thousands of jobs will continue to be lost in 2021. All of us will already know of people whose job has either massively changed, been lost altogether or who are on some sort of furlough. This loss of jobs and changes in jobs and roles and responsibilities is likely to accelerate once furlough ends and the post-Covid economic world is upon us from late Spring onwards. So, there are likely to be significant changes in personnel for many businesses during 2021.
This started me thinking in terms of what tasks we should be doing now during Lockdown 3.0. Recognising that 2021 will continue to throw up numerous challenges and continual changes, I wanted to focus on a plan for what I think will be a key theme for Sales and Marketing departments this year with your Customer Relationship Management (CRM) systems and this is the challenge of maintain high quality data.
Data Challenge
So, this data challenge will revolve this year around maintaining Data integrity and validity. With each quarter, and furlough officially comes to an end in April, then the remaining months will continue to see changes in staffing levels, and this will impact on roles and responsibilities with these changing or possibly roles being consolidated.
So, what can you do?
Planning is critical and I think we can look at three different planning phases or periods during this year:
• Phase 1- Now
• Phase 2 -May/June
• Phase 3 -Late September
Steps per phase
Within each of these phases there are a number of steps that need to be taken with escalating involvement from Marketing through to the Sales team. The Sales team themselves will be under immense pressure to bring in income and maintain existing client relationships, so starting with Marketing, the first relatively easy and cost-effective step is:
1. Validate emails. This is a quick and easy win for Marketing departments and can highlight invalid and problem email addresses. This can be done by Marketing themselves and surprisingly is not as expensive as you think. This can cost less than 2p per record for 50,000 contacts. This should be your first easy step in each phase since this gives you a great first filter, as you can see who has left, usually pretty quickly, although of course not 100% accurate or up to date (nothing is!) this is in part due to nature of email setup and policies across organisations, but still as a first filter this can yield great results. Marketing needs to do this as it will involve some exporting and re-importing of matching data, but a good System Administrator should be able to do this or speak to your CRM support helpdesk provider. Marketing metrics e.g. open rates, bounce-backs will be much improved just from this one exercise alone and any insights can be provided to Sales for further verification and investigation.
This step can be done in a few days. Even without using any external email validation service, a newsletter or some customer email activity can highlight bounce-backs at least for a quick review.
2. Deduplicates. This is a more involved process, since in my experience with the best will in the world, every system will have some duplicates which somehow always get in! Any internal CRM system duplicate routines tend to be relatively basic such as address fields, cities, first and last name, email addresses, but are unlikely to be include more complex duplication for example across different entities such as Leads and Contacts. Other duplicate routines such as phonetics are also harder to do e.g. First National Bank versus 1st National Bank. For this, you many need to use specific data tools to help identify and then get your Sales team to validate results. Using an external tool can be a slightly more expensive exercise, but if you have many thousands of records, then this may well be a worthwhile step since this can flag and filter duplicates as well as potentially merge these records again having a positive impact of both Sales and Marketing performance and metrics.
3. Ownership. By far the most effective and important step and this should be an ongoing process, but can be neglected or forgotten. The key is Sales ownership, something discussed in previous posts, after all, it is the Sales team system, this is most often the main driver in adoption. Sales need to own this system and ensure it is regularly used and updated. So, when they see a job change, especially, this should be updated. If someone has left, again, they need to quickly and update or change status. My view is to never delete someone who has left a company, but just flag this contact as 'left' somehow, since in most industries once established, people will tend to stay in an Industry and move around, so they may pop up later and you need to then track back to this relationship. A mistake sometimes made and easy to do in a cloud CRM is to re-associate the contact with their new company. Don't do this as you can lose all historic context at the previous company and this can be confusing. My rule of thumb is re-creating the contact in new role and then link via a separate association. Most systems have a way of achieving this.
This is probably the most important ongoing step and Marketing need to support and champion this to ensure Sales are aware of the impact of poor quality or out of date data. Really this is the key to CRM success and needs to be part of your CRM culture and onboarding training so that the Sales team think of CRM as their database, then you are on the road to success. Whenever they just think of it as "marketing database" or big brother, then this is a tougher call. If this is an issue, then time needs to be spent ensuring the Sales team can see and understand the value of keeping 'their CRM' up to date and relevant.
This is especially relevant if you are using any form of Stakeholder mapping. A tougher task to be fair, but with things rapidly changing, who is more important now IT or Finance? Who are now going to be the main influencers in your larger opportunities? Are they there or unseen? Either way, you need to understand how the buyer group dynamics will evolve. This will vary on your own buyer profiles, but I suspect that Boards and Directors will be more stringent . We have heard from large clients who've said that the only projects being approved are those likely to be income generating.
Finally a fourth step, although this may involve additional costs in some form, consider:
4. Sales Enablement and Data Enhancement.
Here we are looking at using or adding additional sales tools to help to enrich your database, whilst this is UK focussed post, we tend to find that many of the Sales enablement tools work best in the US where there is more publicly available data. However, in my view the first and best sales enablement tool to use which we all know is LinkedIn.
LinkedIn Editions.
The most common are the Free or Premium editions and with these you have limited 'saved searches' you can set up to monitor your customer base posts and follow target companies, however, for serious prospecting and customer tracking, you will probably need to consider Sales Navigator. You can try this on a 30 day trial so this may be a useful starting point in Phase 1, if you can give this sufficient time to plan and test if this edition works for you. However, within your team, it may be useful that at least one person uses Sales Navigator for this year. This can help you to map the changes in personnel at client and target companies. Afterall, most people update their LinkedIn nowadays on a regular basis. For integration to the main platforms, then you need the Sales Navigator Team licence. Whilst this can be added to the Dynamics 365 Enterprise Sales licence to create a Relationship Sales licence for only around an extra £20 more per month, a minimum of 10 users are required. Sales Navigator Team also integrates to Salesforce, but this is costed separately.
Another solution is to look at add-on Sales Enablement Solutions such as Versium, but this may involve further investment, planning and training and is probably best left to another post.
Finally, let us consider using external supporting effort or Managed Services.
Managed Services
If you have small department or just need extra support and help, then look at Managed Services as an option. This is where many of these tasks or steps are managed externally, possibly by your CRM provider or a separate external service. As a full-service technology consultancy, we often perform these operations on behalf of our clients either on a project or retained basis or for those on our Platinum Support Plan (24 x 7 x 365 support), then this extra service is built into their plan with a number of days of Managed Services per month. Many other clients take advantage of this Managed Services on a project centric basis.
Back to the three Phases
I started off this post talking about three core phase or burst of activities. Three is a good number since it ensures there is some in-built momentum generated around every 90-120 days. To recap:
Phase 1. Now
Do this now. Don't forget to bear in mind the impact already of the last six months, so this is the first challenge in 2021 and these first six to eight weeks in Lockdown 3.0 mean now is a good time to start these steps off since most business have stabilised after making any dramatic changes last Summer/Autumn.
Phase 2: Early Summer
Re-take the steps above during the early Summer, possibly within 2-3 months of furlough ending again as any more job changes work through. Again, there should be a continued or renewed focus on supporting and ensuring the Sales team are diligently tracking any job and role changes they come across.
Phase 3: Late September/October
With the focus on reaching end of year sales targets for many, then it should be a good idea to repeat these five steps. Since any other prolonged delays in business making decisions in the early Summer will by now have most probably have worked their way through, always assuming and hoping that this Lockdown is really the last one and that by early Summer the vaccination programme has met key targets and we are returning, probably still gradually to a degree of new normality.
Conclusion
Whilst this is a short post, 2021 really is going to be a year where for Sales and Marketing departments the challenge of data and in staying up to date with personnel changes at clients and prospects will be more important than ever.
Updating your stakeholder maps will also be critical, since past experience suggests that with any sort of prolonged downturn or recession, with cash being tight, then finance will hold an even stronger rein on other parts of the business and so you many need to factor this in and engage more closely say with the finance team in order to more deeply understand their influence and how they may be impacting purchase decisions.
So the big data challenge themes this year are going to be:
• Data integrity -making sure who information is accurate and relevant
• Data validity-making sure information is up to date and cleansed.
• Data ownership -making sure your sales team understand the importance of updating records such as new and lost staff, role changes and job title changes
• Frequent Communication between Sales and Marketing to ensure close alignment and an understanding of the impact on both departments shared success in 2021
The starting point as suggested in Phase 1 is in taking those important first quick and easy steps and beginning to create the momentum and culture you need to ensure that you can address the data challenges of this year. The key is you need to start now.
ENDS
Picture credit: Photo 204902783 © Nicoelnino | Dreamstime.com
30th January 2021