The CRM and Technology Gap
Mind the Gap!
It is always worth reminding ourselves that when we introduce CRM, it is very easy to customise and configure the system to suit your own processes, but of course, as numerous companies have found, this can lead to a number of issues...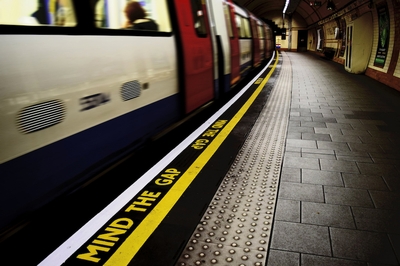 Typically these include:-
• Costly and or just time consuming customisations as opposed to configuration. By customisation we mean coding, for example small pieces of javascript.
• Upgrading problems. We come across many companies who have so customised their system that when a new version comes out with significant database schema or other differences, the upgrade itself can be a timely process and often needs rigorous and lengthy testing and then coding amendments first.
• Users can get lost and also not always fully understand their process when applied to CRM.
So, when introducing your system, you need to be aware first and foremost of both your existing processes, so, some of the questions we ask are:-
• Are they right?
• Are they documented and more importantly clearly understood?
• Are they actually needed?
• Can we change or modify them to fit the system better?
For example, we had one customer who insisted that their renewal contract for their clients, had to be based on joining dates, clear enough, but that this had to be based against whether it was before or after 21st? of the month . So it moved to 1st or 30th of the month each side of the line for invoicing!
Why? Because that was what was always done. Rather than just base it on the date and then invoice.
Solving this issue in the CRM system chosen by them (we had come into rescue the project), involved around 1-2 days of extra work. Taking the configured or out-of-the-box solution would have saved them £1500….and for what? To their clients this difference meant nothing, they just assumed an annual renewal date as per car or home insurance. To them it was just an annual renewal date!
There was no benefit to anyone, apart from we had 2 extra days consultancy! But, this meant 2 less days from their budget and from our perspective, 2 less days where we could have added some value. There was no value in this process.
Delving through the archives, this illustration is a great example of why you need before or during your scoping of any CRM project to take the opportunity to re-look at your processes and take time to consider if they can be modified or changed to better suit the CRM system and most importantly save you cost and time and effort in customising the system this process. This is what we call mapping the Technology Gap
Conclusion
So, in any CRM Project, you need to understand if there is a 'gap' between your existing process and how this can be applied to your new CRM system.
Ask yourselves the key questions as we have stated above to identify if there is a 'gap' between the actual process and how this can be applied within the CRM system.
Does it need costly and time consuming customisation or can the process either be amended or improved to better fit the software, saving you time and money in the long run. Can it be improved?
This is the essence of what we can the "Technology Gap" and this is why when we are looking at Scoping Workshops, understanding or when you are looking at how to optimise your CRM system, you need to consider the three pillars of CRM planning:-
• Technology
• Processes
• People.
This blog focuses on the need to review and if required adjust your processes.
We see this as an opportunity to gain feedback, ask questions and not just accept the status quo. With Business Process Reviews, you can find that, often you will be able to simplify a process or certainly reduce its complexity.
Bearing all this in mind, it is why a key starting point before the CRM Scoping workshop can be a Business Process workshop held either internally or with our help and it is why companies such as ourselves who are looking at the complete Lead to Customer process and involve not just CRM, but Marketing Automation will offer this as a key part of the service.
22nd May 2017