Preparing your CRM for 2018
Introduction
What CRM Work should you being doing now and over Christmas?
With Santa now entering his busy period and the last four working weeks, well 3 hectic weeks with a slow week between Xmas and New Year, What should we be doing now to prepare for 2018.
This is a great time to take stock and do any database preparation work...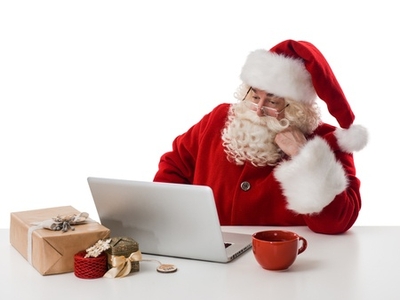 Key Tips
So, my number one tip this year is:-
• Start to Prepare for GDPR. This new regulations impacts from next May, so you only have a few months to get ready and decide what to do and when. There are a host of useful articles around, in particular a useful free whitepaper can be found here.
-GDPR will dominate the headlines in the New Year and for those of us in CRM, we are already having an upsurge in clients asking question and considering moving to the more modern and flexible cloud based CRM systems such as Dynamics 365.
-Don't underestimate the time it will take to absorb GDPR information and at the very least you should assign a quiet day to read information and formulate an action plan. Such as contacting experts to review your system. A good starting point is this free White Paper download from one of our partners
GDPR aside, what else should you be doing? Here are my top tips for making the most of the next four weeks:-
• Ensure you have Backups of all your files. Now is the time to check this with your IT, especially if you have any planned maintenance work and indeed have an on-premise CRM installation. For cloud CRM users, this should not be a concern.
• Don't do any major data imports or data deletions. Whilst this appears to be a good time to 'tidy up' the system, now is not the time to do major changes to the database. Key people are often pre-occupied or off on holiday and others many not give you the time you need as their minds may be understandably sometimes not fully focused in the last week.
• Don't go changing or improving workflows or automation. Our experience shows that your Users want to come back to the system pretty much as they left it. They won't thank you for improvements made as they will have their own ideas on what they want to focus on in that first week back in 2018.
So, that's really a few Don'ts'
…And the Do's?
• Do some investigative work on your database. But please no changes. For example, identify all those key contacts with no email address or incorrect emails or where your Christmas Newsletter had a bounce. Start to look at and possibly flag these records for when the Users come back.
• Consider running some duplicate testing. This will be welcome as long as you don't actually merge anything, it is always the wrong parent-child that is merged! Again, consider flagging these records ready for User investigation and approval in those first days back.
• Review which custom fields are filled in. For example, is the "number of employees" field always completed. Is it needed still or are there other fields more important that perhaps should be moved around the screen? Remember, screen design is a key ingredient in User adoption. Again, be wary until Users come back
• Look at your existing Reports and also your key Metrics. Which Reports are used and do these need updating? What are the key metrics from the year, how do they compare to last year. Are these being accurately measured?
• Review your Active and Lapsed customers. Again, don't make any actual changes, but create a List or Group for your Users to review when they return. You should have clear written guidelines on what a "Lapsed Customer" is based on your industry.
That first week back after New Year can appear to be slow as customers and suppliers pick up where they left off and many sales people are reluctant to make calls on the first day, so this is a good time to possibly 'ask' if they can review work like this that you have done over the holidays.
Week One- CRM Review Meeting
So, book in now a CRM Review meeting in that first week. This will give you a chance to provide information as stated above for feedback and also, if you have done your homework, a key topic on the Agenda will be GDPR and this topic needs to be introduced since there will need to be changes which will impact working practices and the CRM system design in the New Year.
Let's hope that this list of some key Do's and Dont's gives you a short list of ideas on how to maximise your time over the next few weeks and especially in the quiet period between Boxing day and New Year. If there is one message for this blog, it is to use this time to help to prepare your CRM system and look at what you need to do to make it GDPR compliant ready for the challenges of 2018.
Finally, Happy Holidays and Merry Christmas….
.
6th December 2017