What work needs to be done on your CRM system over the Christmas period?
Well, with Santa probably just already about ready to start loading his sleigh, what work do we need to do on our CRM system before the year end and indeed what should we do if we are having to work over the festive period?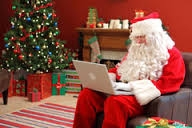 Here are my top ten tips for making the most of the next two weeks:-
• Ensure you have Backups of all your files. Now is the time to check this with your IT, especially if you have any planned maintenance work and indeed have an on-premise CRM installation. For cloud CRM users, this should not be a concern.
• Don't do any major data imports or data deletions. Whilst this appears to be a good time to 'tidy up' the system, now is not the time to do major changes to the database. Key people are often pre-occupied or off on holiday and others many not give you the time you need as the minds may be understandably sometimes not fully focussed this week.
• Don't go messing around and improving or changing workflows or automations as our experience shows that your Users want to come back to the system pretty much as they left it. They won't thank you for improvements made as they will have their own ideas on what they want to focus on in that first week.
So, that's really a few Don'ts' …and now the Do's
• Do some investigative work on your database, but please no changes. For example, identify all those key contacts with no email address or incorrect emails or where your Christmas Newsletter has a bounce. Start to look at and possibly flag these records for when the Users come back.
• Consider running some duplicate testing. This will be welcome as long as you don't actually merge anything, it is always the wrong parent-child that is merged! But consider flagging these records ready for User investigation and approval in those first days back.
• Review which custom fields are filled in and frequency. For example, is the "number of employees" field always completed. Is it needed still or are there other fields more important that perhaps should be moved around the screen? Remember, screen design is a key ingredient in User adoption.
• Look at your existing Reports and also your key Metrics. Which Reports are used and do these need updating? What are the key metrics from the year, how do they compare to last year. Are these being accurately measured?
• Review your Active and Lapsed customers. Again, don't make any actual changes, but create a List or Group for your Users to review when they return. You should have clear written guidelines on what a "Lapsed Customer" is based on your industry.
That first week back after New Year can appear to be slow as customers and suppliers pick up where they left off and many sales people are reluctant to make calls on the first day so this is a good time to possibly 'ask' if they can review work like this that you have done over the holidays.
All of which leads me to my last few recommendations…
• Update your User Manuals, Playbooks and SOPs. Probably the best time to do this as you can run through these and add-in or tweak the manual ready for either new training in the New Year or for training new recruits. Having up-to-date manuals and doing this work now when there is less interference and interruption can be a great use of your time. It is certainly something we do. Update any SOP (Standard Operating Processes) documents ready for a review in the first week you are back. This may just be a case of simply adding in new screenshots to show a process better or more relevant screenshots.
Finally,
• Make a list of possible improvements you may want to make to your CRM in the New Year, ready for the first Sales or Marketing Meeting. This should include ideas for reducing clutter on the screen, replacing/relabelling or simply adding or taking away custom fields not readily used. Your case here will be helped by any previous analysis as suggested above. The simpler the screen here, the better. In addition, look at ideas for workflow or automation with the objective of making the sales team and your work easier. A good example for a support desk is the automatic case creation email to the client giving details of their case and a chance to respond/question the case that has been raised. Another element could be creating self-service facilities for clients to request items or raise a support case.
Hopefully, this list of questions will give you some ideas on how to maximise your time if you are having to work over the Christmas period and more importantly this will help to prepare your CRM system ready for the challenges of 2017.
As they say, Happy Holidays and Merry Christmas….
28th December 2016