Gordian Knot -slicing thru data issues in CRM
Introduction
Now we are in the quieter summer months, this can be a good time to review your data. We find clients start to consider if their CRM system meets their current requirements and if it is time for a change or a major overhaul later in the year. In any case, whether you decide to "to stick or turn" on your system, these Summer months are the ideal time to be looking at your data afresh. Starting this work now can save a tremendous amount, especially if you are considering implementing a new Customer Relationship Management system later this year.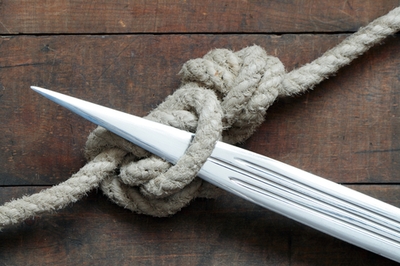 Most clients existing system(s) will have an abundance of available data and if you are moving to a 2nd or even a 3rd generation CRM, then you will have learnt that data migration is always one of the key discussion points and constraints and can have a big impact on the delivery timing for your new system.
Inevitably, this topic needs much internal discussion on what data to bring over and why and each of your different stakeholders may have conflicting opinions and views. So, data can be a key sticking point.
So, let's examine some of the catches/obstacles you need to consider. In my view, these fall into three core areas:-
Legacy data. Your system may have been in place for many years and has lots of data on accounts, leads, contacts and opportunities (both won and lost!), not to mention possibly numerous cases/tickets if you have full blown CRM and not just a Contact Manager.
Data quality. With older systems it is almost invariable you have a lots of poor quality data. Over the years, your different Users will have partially only filled in their records. Typically on a contact, many times, we find just a first name or no email address or job title. Another key missing element is that whilst your Accounts records may have key fields, again, many of these records may be missing up-to-date information or even still be only partially completed, even if they are still active Clients. For instance, telephone numbers, industry sector, website and even full address data may be missing, all very frustrating to those using CRM diligently, but we've all come across this and as I've said before in my posts, my view is your Users need must 'own' their system, it's a key factor in adoption success.
GDPR. We all knew this came into effect last May, so this needs careful consideration and you may need to use some external advice here, if in doubt refresh yourself on the key principles at the ICO site Arrgh! I hear you say, not that topic again, but wait…
The key in any review and especially in looking at a new adoption is that what is actually needed is clean, good quality and accurate data. This is always the best starting point when moving to any new implementation. A good rule of thumb is to consider data minimisation principles, so only store the data you actually need.
As I said above, if your system has been in use for a long while, it inevitably will become cluttered as people enter data in differently over the years or people move on and what meant something to them, is now just meaningless.
So you now have a golden opportunity to rejuvenate your records.
Whilst you will need to Scope out any new system to fully understand your current and planned processes and people involved and build a configuration and deployment plan, one of the biggest issues which needs careful preparation and inevitably your time is still going to be this data.
Data Migration
Don't underestimate this from a client perspective, to your consultants, data is just often data, you are the experts on your data. For example, a typical SME company may have in the region of 5,000-10,000 or more Contact and Account records, together with '000's of associated activities.
In addition, you can expect thousands of linked emails, although some CRM systems may not be connected to the email system, still cited as a key driver in say moving to a more modern cloud system such as Dynamics 365 or Salesforce.
Any consultant will tell you, whilst you can Scope and document your Requirements in Workshops and then work out how much time is needed to configure and train your Users, the most difficult estimate for time, still most often comes down to Data Migration. In fact, whenever we quote, whilst we can give an initial estimate, we always need to add in the caveat, 'subject to sight of data/subject to scoping".
Over the years, data is the most unpredictable item to estimate from the outset and this comes back to the need to often bring in large amounts of data, with nearly every project involving data that has been 'stored' in many different sources. Having a single centralised 360 degree view of your clients, perhaps is still the key business driver in adopting CRM.
This is because you may find you have:-
Large amounts of data. From many years usage as mentioned above.
"Silos" of data. For instance, separate CRM or related systems (sometimes we find different instances in the same company) and numerous other systems holding contact data such as Email Marketing or Marketing Automation together with invariably some Excel spreadsheets which have been used for a specific point solution.
General reluctance to not delete. Or abandon all this data, after all, there must be "nuggets of gold" in there!
All in all, this can represent a big tangle of intertwined ropes or in fact a large knot of data!
The Gordian (data) Knot
Clearly given the references above, our job is to help you slice through this Gordian (data) knot and surprisingly, this has been made simpler in 2019.
Why?
Well, come to the rescue –those GDPR regulations!
When considering your own Gordian data knot, the GDPR impact needs to be considered, so in many ways, getting rid of your old and redundant data and instead focusing now on the current and most relevant data where you have a legitimate interest is assisted by these regulations. So, you can now look at all this legacy data age afresh.
Remember, whilst I mentioned above, the age of your data, this is just one thread in this knot. The next themes I think you need to consider are:
Relevancy: What do we actually need? Customer data, prospect data, old lead data? For contact data, what do we have? Just a single name, no surname or job title? Again, as above. Are there any activities against the contact?
Source: Where did this data came from, do you know it? Do we want to retain the source, if you have recorded this? This can clearly be important for any marketing analysis going forward
Is this really useful data? As I said above, just a single name, no email address, no job title? Where is the value here, again, what is the relevance? Is it accurate?
Last contact. This should be relatively easy to sort on, often this may be in your system as maybe a "last update" or "last modified" system field. This may be a hidden field, so ask your administrator.
Activities. Most systems have default import templates for contacts and accounts data, but where it becomes more difficult is in importing activity data. Here you need to think long and hard. Do you really need all the email interactions and call/contact activities and history? Again, are they all relevant?
Enrichment of data. This is really an extra question. But, something to consider at this point, typically this may be around Company or Account data. Should you just import or take the opportunity, time permitting to look to enrich your data?
Don't forget when dealing with these questions, in many cases, you may be able to just keep a single licence or archive of the old CRM system for reference during your transition period. But set a limit is my advice and again, be aware of GDPR implications and discuss with an expert first.
Now, you are ready to be hard and like Alexander take a slice to this data.
My view, as briefly mentioned above is that, for contact data, and this is what we are generally talking about, Account or Company data is up to you to choose, but again, this can be simple. The key for contacts is now to focus on the last modified or last updated date and if you have email and full contact details. This should act as stated above as a great filter.
I am assuming you have already done some work updating and enriching your data due to GDPR compliance, so your latest data should be the most valuable. If you are importing over activities for the future, this can act as another filter. So, if there are no activities or no contact update in say the last 3 years and no email, why bring this data across? Data minimisation principles should apply again here.
Our Goal: The Single view of the Customer
Remember, this is what we are all striving for.
Having the most complete view of the customer or contact and the most up-to-date and accurate information available. The higher the quality and accuracy of this data, then the better your User adoption will be. Making sure you have done this pre-migration work will now pay dividends and make this an easier migration in my view. My advice is to only import the best quality and most up-to-date and verified data you can into your new CRM system.
Your Users will expect this as well in my experience. As I say, this is such a golden opportunity to cleanse data and get to that Golden record where your Account and Contact details are up-to-date and accurate.
Time spent on preparation and identification of what you need to do for any data migration cannot be rushed. As we began this post, these Summer months are a great time to start thinking about this. Don't underestimate the time and discussions needed to get a clear view of what and why you will do an action. It is vitally important to document these decisions, since many decisions may be made on different types of data, so have a single Data Migration decisions document with these decisions recorded so you don't lose track of why certain data was omitted or archived. If in doubt, or you are unsure, this is a good time to engage with a GDPR expert and/or your CRM consultants.
Final Thoughts
My aim in this post to try to ensure you do not over-complicate this problem and more importantly you start well in advance of any commitment to a new or your first CRM system and to start to consider all your data sources, so when you start any detailed planning you have already considered many aspects of your data migration project beforehand.
CRM consultants without fail, will tell you that the higher the quality of this data, then the easier the transition to a new or your next system will be. This preparation in advance will give you more time to think about say using Managed Services for example to enrich data such as Accounts prior to this being imported.
If in doubt, speak to a consultancy like ourselves who can help you understand your own Gordian data knot and ensure you don't slice this too early and not without some careful preparation and thought.
ENDS
Note: This post is not intended to offer definitive advice on GDPR, so as stated many times, if in doubt about your own circumstances or project ensure you discuss or work with a GDPR consultant or expert if you have concerns.
3rd September 2019